Wishing you a healthy Festive Season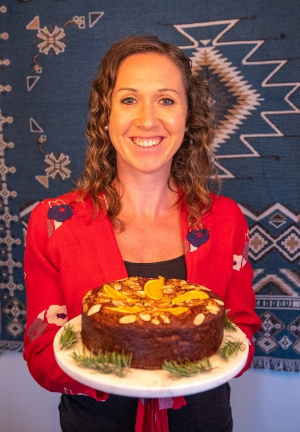 Dragon Claw's Functional Nutritionist, Charlotte Hill shares her "not strictly Christmas Recipe", and said "as this includes oranges, I think it counts!"
This recipe is a classic that uses whole oranges which means it is wonderfully moist. It is very simple and it is gluten and dairy free which means that it is great to bake for anyone with dietary requirements.
I have included 2 options for the sweetener. One that uses a coconut sugar / maple syrup blend which will make a darker cake and one with only caster sugar. Coconut sugar and maple syrup have the benefits of containing other minerals which helps with the metabolism of sugar in your body, however, both options will still cause your blood sugar to rise.
You are also welcome to experiment with any other type of sweetener depending on your dietary preferences." said Charlotte.
Enjoy with coconut yoghurt or full fat Greek or natural yoghurt - the increased fat - will help taper the blood sugar rise too. Happy baking and a very Happy Christmas. For recipe click here