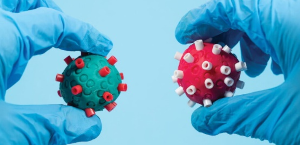 Possible new treatments for COVID-19 might be available soon
Either of these treatments must be started within 5 days of symptoms with proof that the symptoms are from COVID.
The two possible treatments are:
One intravenous infusion of a monoclonal antibody Sotrovimab.
An oral treatment of 2 antiviral medications Nirmatrelrir and Ritonavir packaged together as Paxlovid® taken twice a day for 5 days.
These medications may or may not be available where you live. The important message is to 1) get tested as soon as you have suspicious symptoms; and 2) confer with your health provider or COVID information office as soon as you can as the treatment must be started within 5-7 days of onset of symptoms.
Along with these treatments, and for mild cases, Budesonide (an inhaled corticosteroid) BID for 2 weeks.
By Dr. Charmaine Jones (Retired physician and RA patient) – This email address is being protected from spambots. You need JavaScript enabled to view it. see Patient Advisory Bio click here