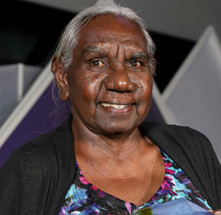 Meet Dr. Miriam-Rose Ungunmeer Baumann AM
Senior Australian of the Year 2021
As part of Dragon Claw's development of their First Nations Medication Adherence videos, its team members Terry Jones and Susan Hughes were able to hold a zoom meeting with Dr. Miriam-Rose who spoke from her school at Daly River, NT and the Sydney-based dragons from their homes.
In its initial planning stage, this video is being produced for Wadeye which is Northern Territorie's largest Aboriginal Community of 2,000 and is located South - West of Darwin.
Miriam-Rose was able to guide the DC team in understanding her community's health challenges and provided insights into the cultural sensitivities of the local Aboriginal Nations.
She was most supportive of this Commonwealth Govt funded program because she said,
"I am scared to go to the doctor because I don't want to be sent away to Darwin for treatment, away from my people and country. Based on memories, my people are scared about going to the clinic too." She said that "the current virus has also compounded our fear of medical treatments and affects our mental health."
"If our people felt more comfortable about going to the clinic earlier, when their symptoms just start, then the clinic would be able to treat them with good medicines to avoid getting very sick and having to leave their community. The trouble is that we are going to the clinic when our health conditions have advanced which increases the risk of us having to leave our home."
Although they live in vastly different parts of Australia, being a remote NT community and busy suburban Sydney, they had the opportunity to each identify their common interest and ability to enjoy a good laugh together.
Terry said
"Miriam-Rose generously and warmly gave her time to help inform us about how we can help her communities. We found her to be so friendly with a great sense of humour and we realise we still have a lot to learn".
Terry added,
"The important part of this program is that these videos will be co-developed by the Wadeye community – in their own country, own languages and acted by their own people." "As with our other remote Australian video productions, we feel confident that the Wadeye and Daly River people will be proud of their own video work and importantly learn the messages that will help improve their health and wellbeing".