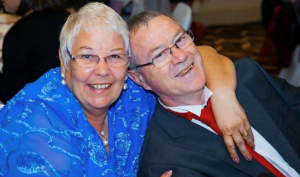 Dragon couple tell their love story
Indigenous Dragon Claw Board Director Lynda Holden was born in Glen Innes NSW. For fear of government harassment, her Aboriginal family lived away on the banks of many rivers in Queensland and NSW before returning to the place of her birth.
She met Neil, her non-Indigenous husband of 40 years at a party in Cremorne in 1971.
Lynda says "We got on well from the start and he was aware of my Aboriginality and directness early". We dated for a while and then took a long break until 10 years later when he realised, I was the best woman he had met and got in touch. We were serious then and married in 1982.
Together they have raised four sons: Gregory (Lawyer), Mark (Lawyer), Scott (A/Manager), and Jared (Remedial Therapist). They have two grandchildren and until recently lived in their Sydney home with 3 generations of family.
When Lynda was 18 years old, her first born son was stolen from her shortly after birth. The grief never left her but after gaining her education as a Nurse and Lawyer, she successfully sued the Sisters of Mercy for illegally taking her child. She has had a varied career as a nurse in urban and rural communities and has lectured in Nursing at The University of Sydney. She lectured in Law at Western Sydney University and is currently a lawyer in her son's family company. She is a director of Dragon Claw Charity Board, advisor to National Advisory Community Controlled Organisation (NACCHO) and the Reconciliation Team at Pfizer Australia.
Neil was born in Sydney in 1945. Late in life Neil gained a Bachelor of Behavioural Studies (Psychology) and finished his varied career in administration at Sydney Nursing School.
In my 40 years married to Lynda I have been increasingly in awe of her intelligence, her passion for child and Aboriginal justice, her determination, and ability to achieve goals. Despite so many challenges we are still in love, and the family is still close.
Lynda and Neil have recently moved from Sydney to Gloucester in regional NSW where they will continue to be active in projects and causes, hoping to make a difference.
Written by Dragon Susan Hughes – for details on Dragons Lynda and Susan, see the PAC Bio