Cross Cultural Education pilot program with Pfizer Australia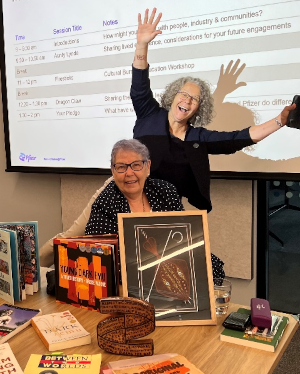 Dragon Claw's Aunty Lynda Holden with Pfizer's Rebecca Archer – celebrating the success of their Cross Cultural workshop
Dragon Claw's Director, Aunty Lynda Holden, proud Dunghutti woman, said "It is reassuring that in the spirit of reconciliation, our health leaders are now willing to listen and learn about our First Australians culture, life styles and urgent needs to help close the gap for my people"
Dragon Susan said, together with Terry Jones "we found these senior Pfizer staff participants sincerely interested and keen to hear about our lived experience working in our indigenous remote communities" and " further their knowledge about our Indigenous culture to help improve the health of our First Australians. For Pfizer's feedback about this pilot education program


L-r Pfizer's Leigh Symmonds, Dragon Clalw's Aunty Lynda Holden, Terry Jones, Susan Hughes, Rebecca Archer Pfizer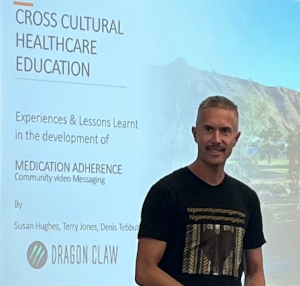 Director Andrew Thirlwell demonstrating leadership in Pfizer's Reconciliation Action Plans. He is wearing Tiwi's "Look after ourselves, look after one another" T shirt
Pfizer's feedback:
Sincere thanks from our Reconciliation@Pfizer team for the collaboration, commitment, and support to produce the Cross Cultural Healthcare Education workshop.
We have received so much positive feedback and some great ideas to develop and grow the conversation both inside and outside Pfizer.
The lived experience of Dragon Claw was an eye opener for many as they have not formally engaged with Aboriginal & Torres Strait islander communities. Everyone agreed we need to continue the conversation.
Here are some direct quotes about the positive events at the workshop:
"Fantastic stories from Aunty Lynda and Dragon Claw. The lessons learned from Dragon Claw were especially useful."
"It was a tremendous experience and meeting Auntie Lynda was an honour for me. She is a wonderful leader and inspiration."
"Hearing it first-hand from Aunty Lynda their truth and from the Dragon Claw on their learnings on how we can better engage the aboriginal community."
Warm regards, Rebecca Archer, Project Manager, Pfizer Aust. Inflammation & Immunology.