Care Givers Corner
Caring for Rachel
by Margaret Lea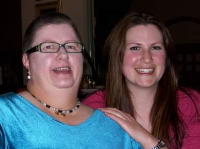 Margaret with her daughter Rachel Lea
(note the "butterfly rash"on both of Rachel's cheeks – which can be a hallmark of Lupus)
During 1989, my 14-year-old daughter, Rachel, became ill with a mysterious illness, causing her to suffer from joint and muscle pain, fatigue and skin rashes. She was referred to many rheumatologists, who were unable to diagnose her with any significant illness because of normal blood tests.
During this difficult period, I had many sleepless nights, crying into my pillow. What was wrong with Rachel and who would help us? How would she be able to finish her education?
My husband is a silent warrior, always quiet and calm, whereas I needed to urgently know what was happening to our once vibrant and energetic daughter. Aside from looking after my family of five, I was now the full-time carer for Rachel, who was often bed-ridden. She needed to be bathed and fed during the onset of this illness. Rachel barely had the strength to walk, hobbling slowly through the house with the use of her cane. I was distraught at the sight of her struggle. Consumed with fear for Rachel's future and constantly attending to her daily needs, I found myself exhausted at the end of each day.
I turned to my mother for support, but she was unable to help, as there was no answer to this medical dilemma that satisfied her. She would often ring and harass me for an update and possible solution to Rachel's ill health, causing me anxiety and depression. It was an unexpected, unhelpful and distressing response from her, causing the deterioration of our relationship, at a time when my husband and I needed to be supported with much love and compassion.
Thankfully after a 3-year period of great distress for us all, Rachel was diagnosed with systemic lupus erythematosus (SLE) and with medication, she has managed her illness for over thirty-three years. She completed secondary education, went to university and graduated as a secondary teacher.
In 2013, Rachel was diagnosed with the musculoskeletal condition fibromyalgia. Along with the advancing disease of her lupus, she was sadly forced to leave her 20 year teaching career in 2017. Whilst Rachel continues to live independently - as carers, my husband, daughter and I currently assist with financial support, home-care help such as grocery shopping, food preparation and house cleaning; when she is struggling with flares of her conditions.
Editors' note: Rachel is a newer member of the Dragon Talk community. In spite of her long journey with Lupus, she is invariably positive in her outlook, happy in her speech, and a delight to have as a Dragon friend.