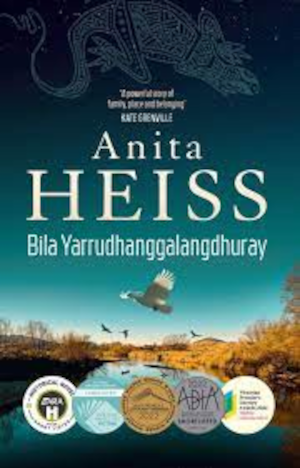 Bila Yarrudhanggalangdhuray by Dr Anita Heiss
Book Review by Dragon Rachel Lea
Synopsis
The powerful Murrumbidgee River surges through town leaving death and destruction in its wake. It is a stark reminder that while the river can give life, it can just as easily take it away. Wagadhaany is one of the lucky ones. She survives. But is her life now better than the fate she escaped? Forced to move away from her miyagan, she walks through each day with no trace of dance in her step, her broken heart forever calling her back home to Gundagai.
When she meets Wiradjuri stockman Yindyamarra, Wagadhaany's heart slowly begins to heal. But still, she dreams of a better life, away from the degradation of being owned. She longs to set out along the river of her ancestors, in search of lost family and country. Can she find the courage to defy the White man's law? And if she does, will it bring hope ... or heartache?

My Thoughts . . .
I was swept up in this story the moment it began. It's an engrossing, heartbreaking, powerful story. It is a beautiful and vividly atmospheric read too. I had trouble putting it down as I was mesmerised but the depiction of life on the land for the Wiradjuri people. I enjoyed learning so much more of their cultural practices with food, animals and spirituality. The inclusion of Wiradjuri language was fascinating and the further I read, the less I needed to refer to the glossary for interpretation.
I loved the character of Wagadhaany; her spirit and connection to family and the land was full of gratitude, hope and peace. Her love affair for the strong, caring Yindy was heart-warming to read. But her longing to see her family and the freedoms denied her by the White people she worked for, simply heartbreaking. The journey of naive, idealistic but compassionate English rose Louisa was both in contrast and of similarity to Wagadhaany, as she too was trapped but within her own privilege.
I was also bereft, feeling much shame and frustration for the destruction of the natural environment that White man has caused on Australian land. The racism and injustice are also painful but important to read, particularly having greater understanding of life for our First Nations people in the 1850's and beyond.
This is a beautiful, heartbreaking but compelling book that moved me to tears, so deserving of all of its many accolades - a must read.