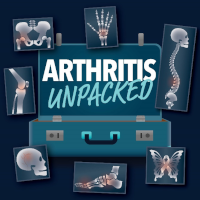 Announcing "Arthritis Unpacked" a new Janssen-sponsored podcast and video series for those living with arthritis.
Hosted by Rheumatologist, Dr Paul Bird, the series provides listeners/viewers with information about arthritis is simple terms, without the jargon.
Over five episodes, Dr Bird explores the different types of arthritis and treatments available for rheumatoid arthritis. He also provides tips to patients on living well and getting the most out of treatment.
All five podcast episodes are available to stream/download now via the PodBean app (and other streaming platforms): https://arthritisunpacked.podbean.com/
Video episodes are available to watch on YouTube by Clicking HERE